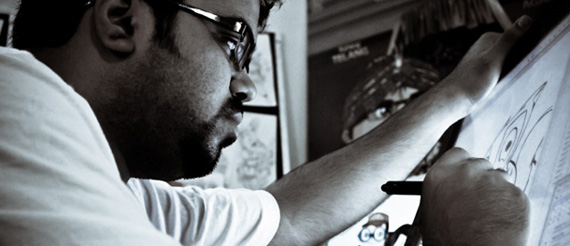 Kshiraj Telang is a game artist at Lakshya Digital (Gurgaon), one of the finest game development studio based in India where he works with and leads a team of highly skilled and talented video game artists. Together they create dazzling art for a variety of games ranging from AAA titles to social and casual games.
[ If you are on Twitter, go say hello to him: @kshiraj ]

At the recent NASSCOM GDC 2012, held in Pune, India, Kshiraj conducted an interesting session on 'Character Development for Video Games'. You can see the complete slideshow on the Lakshya Digital Blog – and if you are even remotely interested in Character Design and/or Gaming, you MUST see it.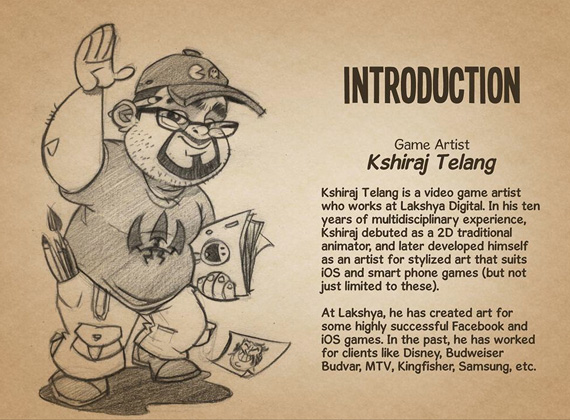 AAA – How was the experience of presenting before a large audience at a conference?
Kshiraj – Visiting and delivering a session at NASSCOM Game Developers' Conference (NGDC) 2012 was an amazing experience. It was immensely satisfying to see an informed audience that wisely selected which sessions to attend from amongst at least five concurrent sessions. I also noticed many game students not just from Pune (where NGDC was being held) but also from all parts of the country who came exclusively to attend the two-day conference.
AAA – How did you prepare for it?
Kshiraj – When I was writing the content and making the art for my session, I didn't want to use supporting visuals downloaded from the Internet. I am not sold on the idea of showing images of 'Kratos' and 'Lara Croft' to explain what 'good character design' is. Known names from successful franchises would definitely help the audience to grasp what I was talking about. At the same time, I could use my own drawings to effectively convey the art related points. However, this called for a longer preparation time, which my studio generously gave me even when there was tremendous workload. My production head mentored me on the finer details of presentation and guided me throughout.
AAA – Were you nervous?
Kshiraj – To tell you the truth, I was very nervous. But then I had a great deal of support from my Studio Lakshya colleagues and other acquaintances. I had estimated my presentation to be an hour-long and had prepared my material accordingly, but things went a little off, and they drastically cut down time for the sessions in the latter part of the day (including mine!) to about 30-40 minutes. That sent me off into panic mode as I wasn't sure how I would manage that!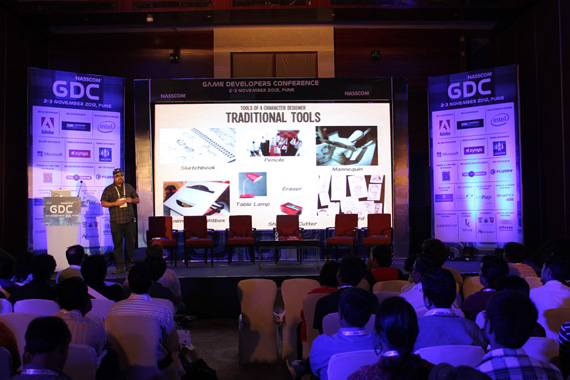 AAA – Was this the first time you presented at a conference?
Kshiraj – For a game conference? Yes. I have been a speaker at numerous other events (comic conventions, creative workshops, art college festivals, etc.), but coming to NGDC and speaking to an audience where everyone was in some way connected with the gaming business, was surely a rewarding experience.
AAA – How did the opportunity come by?
Kshiraj – I had nominated myself in the 'Call for Speakers' sent out by NASSCOM prior to NGDC 2012. I'm glad that the conference organizers found my topic interesting and gave me the opportunity to come down for a session.
AAA – What was the response like? Did you get any interesting feedback?
Kshiraj – Everyone had good words to say about my presentation :) An important case studyhad to be skipped because of lack of time, and it was noticed and pointed out by some of the attendees. We have shared the complete presentation slideshow on Lakshya Digital's Blog [LINK] for the benefit of those who couldn't attend NGDC. I'd be happy to see Lakshya Digital come over for an art workshop in the next edition of the conference.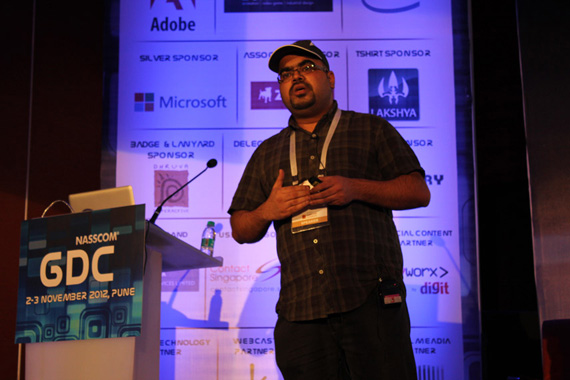 AAA – Please tell us more about the talk – the duration and the target audience. Was it more of talk or audio/visual and QnA?
Kshiraj – I spoke for about forty minutes on 'how to design and develop characters for video games'. The session was targeted at all experience levels, and was most suited to game artists and designers. I started by explaining what Character Design is, described the design process and the tools used by a Character Designer. Subsequently, the game avatar classification type and game character archetypes were discussed with visual examples created exclusively for that session. Because of lack of time, I couldn't conduct my session in the form of an interactive talk or have enough of QnA, however I had a nice time speaking to a few people after the session got over and had the chance to answer their questions.
AAA – Did you show demos of any of your work?
Kshiraj – Most of the examples contained in the presentation were my illustrations. The presentation also featured art by some very talented artists from Lakshya.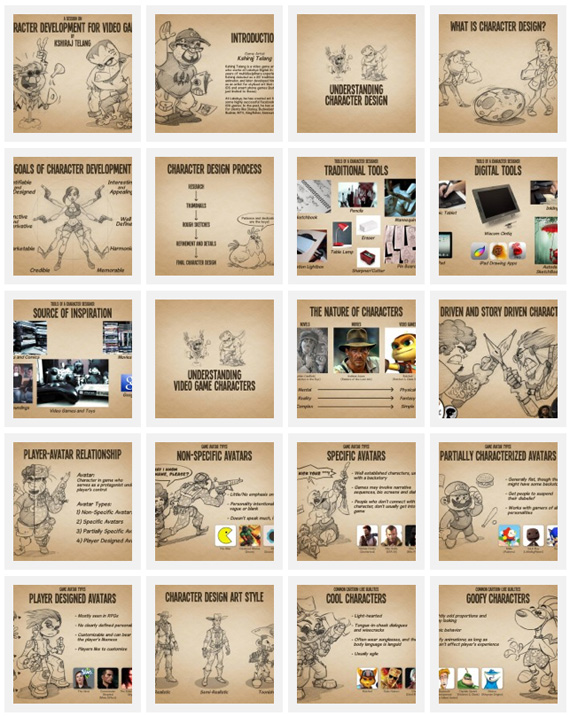 AAA – How different is Character Design for Animation (Film) than for Gaming? Which one do you find more challenging?
Kshiraj – A video game character needs to be designed in such a way that his/her actions are readable. You would need to control the game character in most moments, therefore the design should be friendly to actions and mechanics planned for the game. A game is also non-linear and involves the player making the character act according to his or her liking, so the game character design should fit a range of gamer personalities.
However a character design for animation has to portray a specific emotion and personality from the story that it belongs to. A character design of an animation (film) project is usually more expressive and the emphasis is more on the mental/emotional side of balance than physical (as seen in games). Even then, the definitions changes on several occasions based on the treatment by the creators, and it is possible to find an animated film character who is extremely active physically (Tarzan), or a game character who is very emotionally expressive (Madison Paige from Heavy Rain).
Designing characters for both of these classifications comes with its own challenges, so they can't be compared.
AAA – Name 2 of your favourite characters – one that you have designed and another by a designer you admire, and tell us why you like them.
Kshiraj – Among my own character designs, I love Wolverine Anna a mascot I made for Comic Con India. That's because he's very much me! Everybody loves his quirky expression and it took him no time to gain popularity. He is adorable even though he is hairy, dark and wears a very desi costume.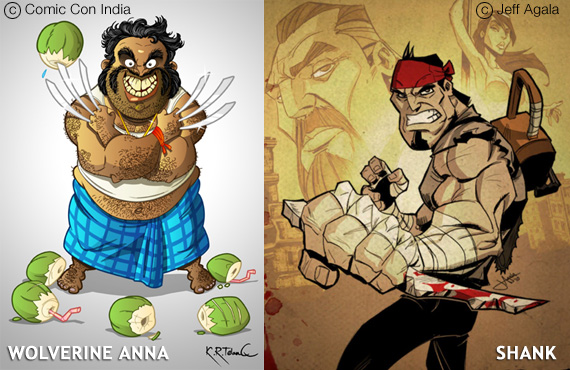 I also love Jeff Agala's  Shank, the player character from the video game by the same name. I love the stylization Jeff brings in his art, and Shank represents that in each and every pencil stroke. I aspire to become as good an artist as Jeff is. I wish I succeed. :)
Here's wishing you all the luck – we too hope to see a lot more fantastic art coming from you, Kshiraj!
You can see more of Kshiraj's art on his website – www.kshiraj.com